Shany is the daughter of
Maria
, the shopkeeper of the general store of
Arx
.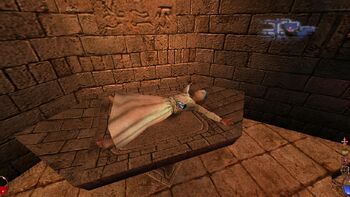 She like to play near the Crypt during the day. One time, she even walk trough the Crypt five level down.
During the main quest, Shany is kidnapped by the Cult of Akbaa to offer her in sacrifice.

The player can save her before that happening.
If the player saves Shany before her sacrifice, she will return to Arx in front of the Crypt entrance.
If the player doesn't save Shany, the story line can still be completed.
Shany is possibly the illegitimate daughter of King Lunshire. Indeed, she does not have a father and her mother has a relationship with someone named "L", who is almost certainly the King.
Sometimes, Shany will not talk to the player at his first visit of the city.
Shany is the only child who can be found in the game.